Autorama The Word of Wheels
Dallas, Texas

Cust
om Car Show
Feb 19, 2016
Dallas Market Hall (Dallas Market Center)
As I lounge on my couch today, I am sadly thinking, that North Texas car show events are beginning to go into a lull for the mild South Western United States winter. With the football game droning in the background a light bulb went on over my head.
The Dallas Autorama is only around 60 days away!
The Autorama is a big deal for me and my Car Club the Dallas Area Classic Chevy Club (DACC). For the club it is a great form to show the best of the best of our club member's Classic Chevy Tri-Fives. The show presents the best recruiting tool for club membership as well. DACC has already started making plans for our eight car display of 1955, 56 & 57 Chevys with a good showing of BelAirs, 210s, 150s, sedans, hard tops, wagons, Corvettes and Nomads.
I have been lucky to meet Henry Winkler
For me, I enjoy absorbing all the great classic car in attendance at the Autorama. The vendors are alway fun to visit and purchase items. I have also been able to meet many pillars of the car game. When learning that George Barris had passed away I went to my signed picture of him, that I was happy to receive at the Autorama, to have a moment of silence. Going to the Autorama, I have been lucky to meet Henry Winkler, Cindy Williams, Courtney Hansen, Candy Clark, Micky Dolenz, Daryl "Moose" Johnson and Vinny Dimartino just to name a few. Don't forget the monster trucks, cacklefests, motorcycle stunt riders, burnout contests, NASCAR drivers and cars and last but not least Goober Lindsey from Mayberry.
A modeler as a youngster the Autorama does not disappoint by having a whole floor dedicated to the model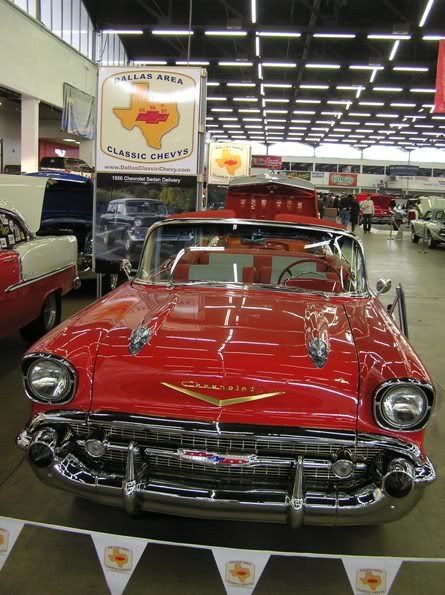 hobby. I usually take an hour or two checking out the models cars and diecast cars among many other items up on the second floor.
As you can imagine my time is spent mostly with Tri-Five Chevys events. The Autorama is a super way for me to see other aspects of the classic car hobby. At the show, I look forward to inspecting all of the new trends and what people are into in the car hobby.
DACC sets up a membership/information table that I generally volunteer to work for half a day of the show schedule. Seeing the young people's faces upon seeing our cars and talking to the more experienced folks about their experiences with the Tri-Five that they had or the car his or her parents owned, brings back great memories and is great fun for me.
The Autorama...showcases a wide range of products and services
The Autorama is Dallas/Forth Worth's premier indoor custom car show. The event also showcases a wide range of products and services related to the automotive and auto parts sectors from leading exhibitors. The show is put on and organized by
Championship Auto Shows Inc.
Prior to the Dallas O'Reilly Auto Parts Autorama car fans will enjoy an Autoram at:
Cavalcade of Customs Car Show 1/10/216 at Cincinnati

Innovative Autoworks World of Wheels car show 1/22/2016 at Pittsburg

O'Reilly Auto Parts World of Wheels 2/12/2016 at Indianapolis

O'Reilly Auto Parts World or Wheels 2/12/2016 at Kansas City

Auto Parts World of Wheels also 2/19 at Calgary, Canada

Meguiar's Autorama 3/18/2016 at the Detroit Autorama
Back to today. not all that interested in the football game, I went to DACC's collection of web page pictures of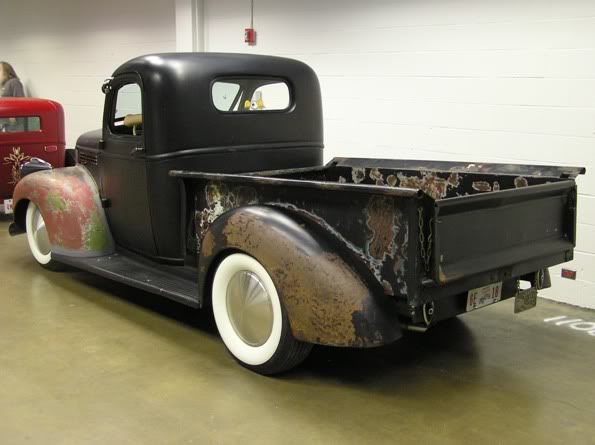 our cars in several venues. I have attached a link to some great pictures for your viewing pleasure:
http://www.dallasclassicchevy.com/Pictures2015.htm
Below is a blurb I wrote for an Dallas Autorama, that I attended a few years ago. The blurb brought back many fond memories and made me look forward to 2016's Autorama and all of the classic car events I will be able to experience.
I wrote this blurb under the pen name of Buddy Love. So this one is for Buddy.
There is a word in the English language that Dallas car people recognize, it's the Autorama. Put Dallas in front of Autorama and you have a premier kicker of an indoor event. Hundreds of the best and most beautiful cars from all over North Texas and beyond poured into the Market Hall to compete for show awards and bragging rights. During the show, no matter where I went people's faces told the story of true amazement at the quality of cars entered in the show.
During the Sunday portion of the event the weather started out with a raucous thunder storm, but that did not
keep car fans from getting their money's worth with hundreds of quality customs, muscle cars, hot rods, motorcycles, lawnmowers and at least one boat. When not looking at custom transportation and dragsters, car fans had a great selection of vendor's booths that showed the latest tools and parts for you car. In the non car line, the show had something for young and old alike. You could play Guitar hero, buy die cast or race radio controlled cars. As always, Tri-five Chevys seem to be a hot item at the show.
The Dallas Area Classic Chevy Club made a display of 8 cars. The club display showed a sampling of all three years of Tri-five Chevy's including a Corvette, Handy Man's Panel wagon and a full race '55. My personal favorite was a Matador Red, 4 door, 57 Chevy Belair with an India Ivory hardtop. I grew up in a very similar Adobe Beige and ivory model. The club's members we not limited to the club display. I saw at least 3 club members' cars in solo displays.
Like me, I hope you are looking forward to the many 2016 Texas Classic Car Experiences to go to next year.