Book Review of
Billy F. Gibbons: Rock + Roll Gearhead
By Billy F Gibbons & Tom Vickers
-Review by Alan Arnell
Billy F. Gibbons: Rock + Gearhead
is the first book about and by ZZ Top's legend front man Billy Gibbons. He opens his garage and studio, through the book, for a look at his renowned collection of custom cars and over four dozen vintage guitars. Billy with systematic detail explains about each exquisite machine and guitar. The explanations are shown in specially commissioned photographs for each picture in the book. The book further reveals many never before seen photos of memorabilia from Billy's personal collection. Billy also gives personal and inciteful facts along with fascinating stories behind his progression from teenage garage rocker to Rock and Roll Hall of Famer.
Billy F Gibbons is, I believe, the most enigmatic Lone Star guitarist to ever strap a six-string over his shoulder.
Billy F. Gibbons: Rock + Roll Gearhead
is now my favorite high-concept book in which a rock celebrity speaks extensively about his guitars and his cars in a large coffee table format book. The book is loaded with pictures and visuals.
The book certainly plays to the visually oriented MTV generation. And, it really should be published in that manner since the music videos that displayed great cars, young boy's dream girls and great music. MTV videos by ZZ Top revived the career of the blues rock power trio and took them to a whole other level.
The books is laid out in three parts. The segments cover Billy's ongoing journey in his musical career starting with his first bands then ZZ Top. Billy discusses the hot rod cars he had and still have in his collection stored in South Texas. The last segment shows pictures of his guitar collection with a brief history of each guitars and a breakdown of each's custom electronics.
A very early London-era ZZ band shot
I enjoyed reading about Billy's musical influences. For example,
Big Stella Matthews who was
the family maid, who early on in Billy's life played a big part in turning Billy on to blues music. I am alway interested in where you came from. The book does not disappoint and highlights how one of Billy's first bands the Moving Sidewalks helped Billy find his groove and he discusses their heyday.
I was particularly intrigued by stories of when Billy was on tour with Jimi Hendrix.
I found interesting, the true facts about the under-reported role Billy Etheridge had in the creation of ZZ Top. One more thing of note is the section about the World Wide Texas Tour. I became a fan of ZZ Top with the Fandango Album and what sealed the deal for me to become a life long fan was the 1976-77 tour. I slept in line the night before tickets went on sale at Illinois State University and bought third row center tickets for the show in Normal, Illinois. The photos of that tour brought back memories of that great time in my life. Hearing the back story of one of my best concert memories was
truly
exciting
.
Of course, I enjoyed reading how Billy got into hot rod cars and his influences towards his car hobby. Any reader of the book will enjoy the many great pictures of Billy, the band, hot rod cars including the famous 1933 Ford Eliminator Coupe. Billy tells
which of his
guitars
were used in the different ZZ Top songs The final treat is learning what each unique guitar
brought to the tone, grove and attitude of the song recorded
.
Billy's Band Before ZZ Top
Billy's Cars
'32 Highboy Roadster COUP DE GRACE
From the Back Hard Bound Cover
Reverend Bill F. Gibbons has the magic formula
Tone + Grove + Attitude + Mystery = Longevity + World Fame
Who wouldn't want all that? His solos are the perfect examples of playing only what matters. "Sharp Dressed Man' and "Rough Boy' are two of my favorites and show that he's the man and has set the standard for rock guitar and rock videos." -Jeff Beck
"Yes, Billy F Gibbons is a true car guy. On of the best! We first made contact back in the 1960's and have remained car-bench buddies ever since. Bill is a super car creator, from Eliminator, Cadzilla and Kopperhed to hi '61 Caddy and his '32 Deuce Highboy. I have enjoyed, and will continue to enjoy, his friendship." -George Barris the King of Kustomizers



From the Back Soft Bound Cover
Praise for Billy F. Gibbons: Rock + Roll Gearhead:
"Any fan of cars or guitars will welcome this hefty document as an irresistible document of politically correct pornography, staring with envy at Gibbons' gorgeous axes and hipster wheels for hours on end."
--Jim DeRogatis, Chicago Sun-Times "A fascinating look at the history of a great band and Gibbons' life-long twin passions."
--Peter Egan, Road & Track "The cars and the music are part of the same enterprise: creating a shared landscape of the mind, a fantasy land where Mr. Gibbons' music provides a soundtrack for imagined journeys. . . . Many will be happy to ride along."
-- New York Times "A love letter to rodded '34 coupes, chopped Cadillacs . . . and assorted customized Gibsons, Fenders, and Magnatones, punctuated with some fine pictures of girls who seem to have had most of their clothes stolen."
-- Vintage Guitar "Reveals the tales behind dozens of his favorite guitars, and offers the lowdown on 10 of his hottest hot rods. . . . Of course, the book also offers plenty of Gibbons' Texas-fueled pearls of wisdom."
-- Guitar World "About this title" may belong to another edition of this title".
Some of Billy's Guitars
The guitar that started it for me at least. The 1955 La Grange Fender Strat. This guitar along with the Pearly Gates put the crowning touch on the song "La Grange." Billy said, "...maple -necked special...that groves on!."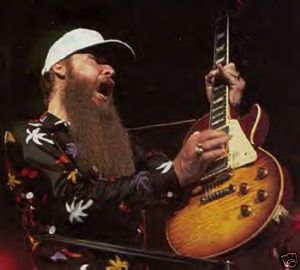 The Cornerstone of guitars for Bill is the

Pearly Gates. The guitar is

a rare 1959 Gibson Les Paul Standard with legendary angelic qualities. It has appeared on every track of every ZZ Top album to date, and sings with a "God-like voice" unlike any other guitar.
Gretsch tailpiece on a custom Ed Roman Jupiter Thunderbird built for Billy Gibbons
The Fuzzy guitars were made famous in multiple music videos were based on a Gibson


ZZ Top Videos
ZZ Top - Gimme All Your Lovin' (OFFICIAL MUSIC VIDEO)
ZZ Top La Grange live 1982

ZZ Top Live at Crossroads Eric Clapton Guitar Festival 2010
!!!Support Texas Classic Experience!!!
Did you like the blog? If you did, the best way to support
Texas Classic Experience
is to share this post! Please tell others that you liked this post by sharing it with your car friends by sending them a link to this page.
http://texasclassicchevyexperience.blogspot.com/
Don't forget to
visit and like
Texas Classic Experience
on FaceBook:
LINK to FaceBook
Texas Classic Chevy Experience
will post blogs about: Hot Rods, Chevy, Chevrolet, Drag Racing, Car Shows, Classic Cars, Custom Cars, Muscle Cars, How to Tech. posts, Dallas Area Classic Chevy Club, Texas Muscle Car Challenge, Tri-Five Nationals, Lone Star Chevy Convention, Classic Car lists, Classic car links, Spotters guides, Car Shows, Swap meets, Book reviews and More.